What is the difference between the XP 1.0 and the XP 2.0?
We value our customer's opinions! With the new upgrade to our award-winning Lectric XP, we made sure to include everything our customers have been asking for at no extra cost! Check out all its new features below:
What Changes were made to the XP?
The 2.0 has an adjustable oil front suspension fork with lockout for 40mm of travel
New sealed LCD display! This upgrade changes the bike's ingress protection rating to IP 65, allowing more accessibility in all conditions
Tire width was changed to 3 inches for increased agility
New 25 inch wide handlebars allow for a more comfortable ride and more room to mount accessories!
The rear rack has been redesigned for more support and durability
There are mounting points on the head tube & the rear rack for our new baskets and other accessories
New custom paint job for a fresh look
With the release of our XP 2.0, we also introduce new accessories! We now have small & large steel baskets, locks, mirrors, phone mount, and a premium front light in addition to our suspension seatpost, giant seats, and pannier bags (each sold separately).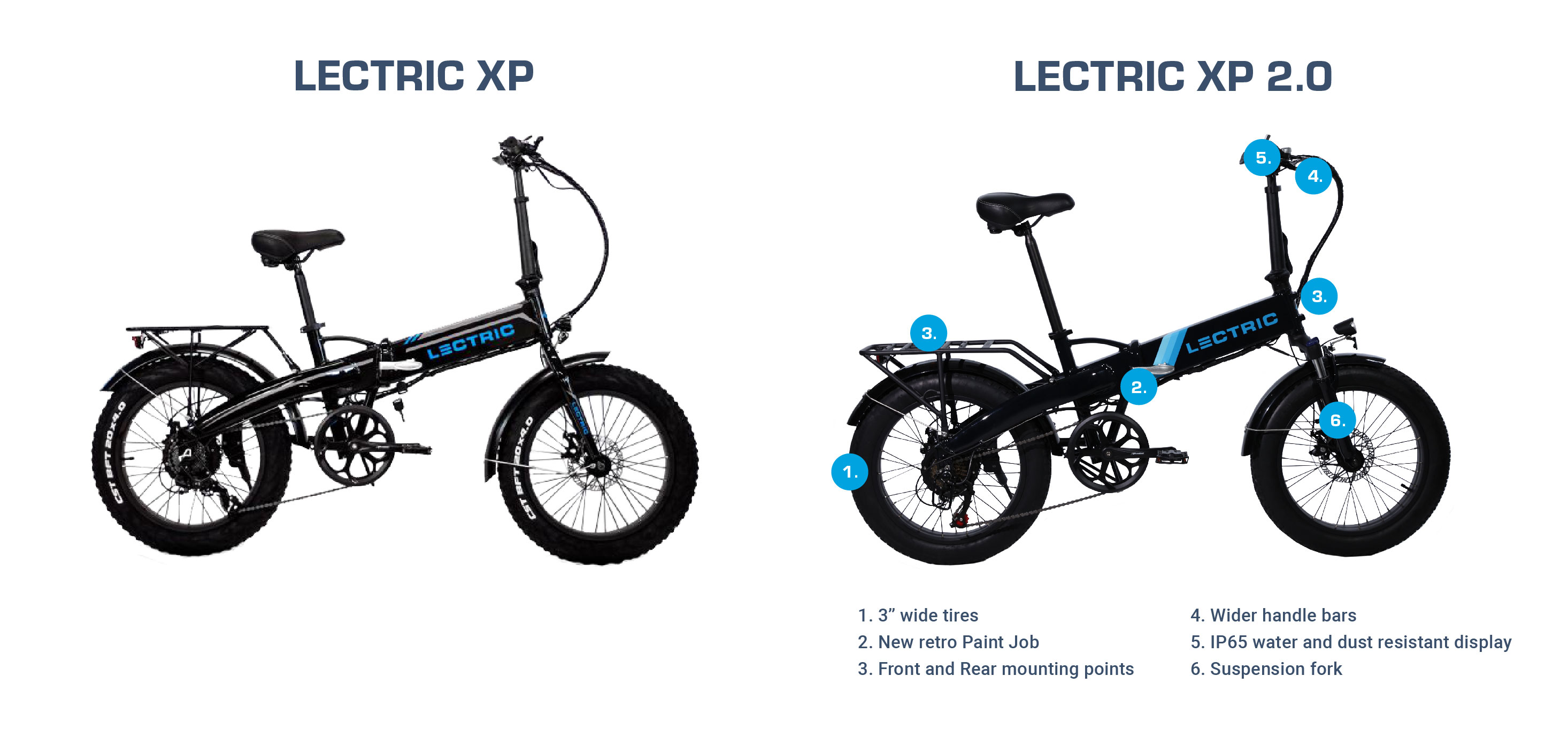 What is the difference between the XP model and the XP Step-Thru model?
The Lectric XP and XP Step-Thru have almost all the same parts and features including the drivetrain, foldability, brakes, motor, controller, display, wheels, top speed of 28mph, and charger.
The main change is the frame shape. The top tube of the bike was lowered for better accessibility and to assist riders with lower mobility!
It's important to note that there are some minor differences. The batteries on the XP and XP Step-Thru are both 48V, but they are shaped slightly different. This means you will not be able to use an XP battery with an XP Step-Thru bike and vice versa.
There are other minor differences between the bikes such as the shape and size of the fenders, rack, and seatpost length.
If you have any questions, please don't hesitate to contact our support team at contact@lectricebikes.com or (602) 715-0907.
---
---